On the morning of Monday, July 3rd, CSC had a devastating fire. We are so thankful no one was hurt, but our building was badly damaged and we are unable to operate out of our space.
We are going to continue to serve our community. We've already started offering services on the street outside our building. We are finding creative ways to continue providing hot meals, food boxes, showers, and many of our important services to our community.
After the fire, we immediately jumped into action, with the help of our community supporters, to ease the burden on our clients. One step at a time, we are making sure our clients still have access to necessary care.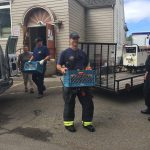 On the day of the fire, Clackamas Fire formed a human chain, helping us get thousands of pounds of perishable food to safety.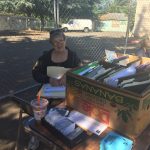 Three days after the fire, we started providing services we know ourclients can't go without, including mail, medical care, and referrals.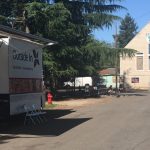 OutsideIn is bringing their medical van to CSC on their regular schedule to make sure clients still have access to medical care.
As we rebuild, your financial support is more important than ever.
We're asking you, our community of supporters, to help us raise $20,000 by August 15th. This will cover the clean-up effort as part of the rebuilding, so we can continue to provide life-changing services. Every dollar counts toward getting us back on our feet. Help us reach our goal by donating to the Rebuild and Provide Fund.
If you would like to give a bigger gift, but cannot do so all at once, consider a monthly donation to help us provide services that keep our community healthy, safe, and stable all year long.
For questions or more information on how to help, contact us at info@cscoregon.org.